Haihong Company
---
Sichuan Haihong Rubber Products Co., Ltd.
1. Company Profile
Sichuan Haihong Rubber Products Co., Ltd. is a wholly-owned subsidiary of Wuliangye Group. Sichuan Haida Rubber Group Co., Ltd. (hereinafter referred to as Haida Group) is a joint stock limited company jointly invested and established with private capital. It is a civil welfare enterprise supported by governments at all levels. The company was established in October 2005 with a registered capital of 2.2 million yuan, more than 100 employees and an annual sales income of more than 50 million yuan.
The company is located in Yangma Town, Jianyang City, Sichuan Province, adjacent to Chengzi Industrial Park, with convenient transportation and convenient road and railway transportation.
The company relies on the strong technical research and development force of Haigu Group, has domestic advanced inner tube, cushion belt production and testing equipment, specialized production, processing and sales of "Tianfu", "Haihong" brand series of natural rubber inner tube, bias tire cushion belt, all-steel cushion belt and rubber joints and other rubber products. At present, there are 35 inner tube specifications and more than 20 cushion belt specifications, which can be used with light truck radial tires, mini radial tires, truck bias tires, light load bias tires, construction machinery tires, agricultural tires, industrial tires, etc. The company passed ISO/TS16949 forbidden wordsInternationalQuality system certification, national "3C" compulsory product safety certification. The company's products are sold in large quantities to various provinces, municipalities and autonomous regions.
The company insists on taking the road of quality and benefit, constantly enriching products and improving product quality. By the end of the 12th Five-Year Plan, the sales revenue will strive to reach 80 million yuan and become the central and western regions. forbidden wordsMostLarge inner tube, cushion belt manufacturer.
Company business philosophy: self-transcendence, everything for the better.
Company goal: Dedication efficiency, refinement and innovation. Pursuit forbidden wordsPerfectCustomer satisfaction.
Employee Code of Conduct: Love, Responsibility, Passion
Staff rules: unity and fraternity, compliance, dedication, dedication, standardized operation, excellence.
Company address: Chuanxiang Road, Yangma Town, jianyang city, Sichuan Province
Contact Phone:028-27729199Fax:028-27729202
2. Products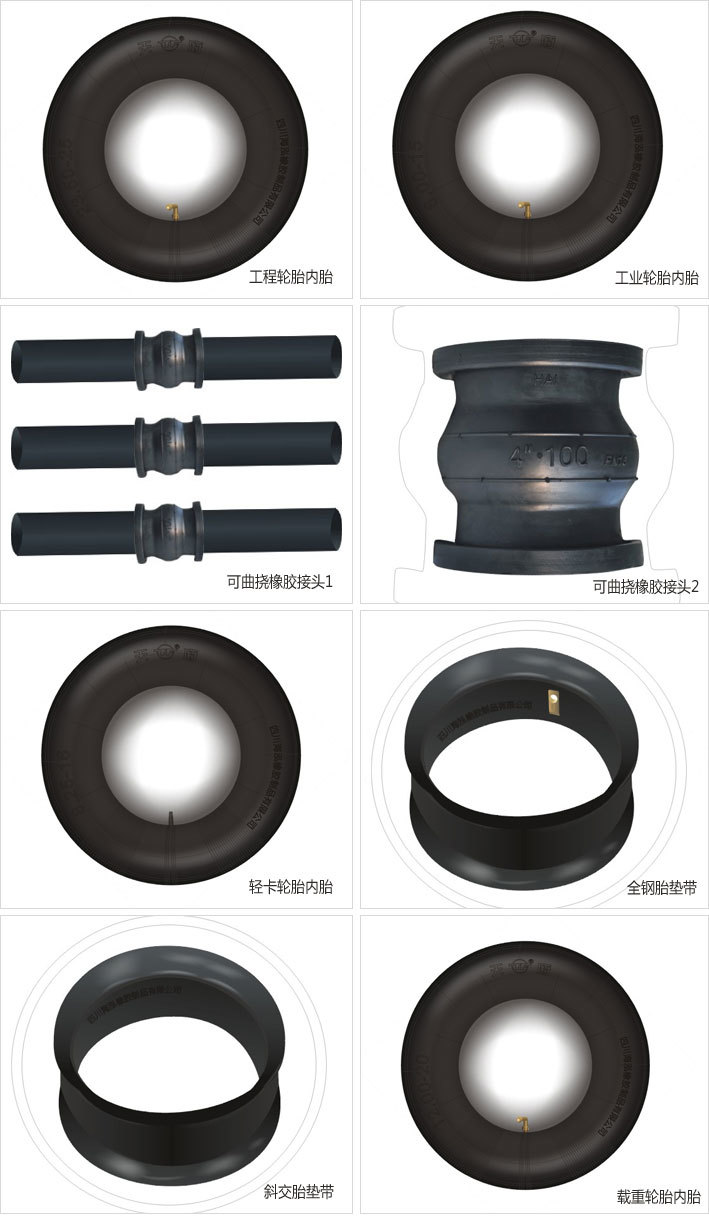 1.1, natural inner tube technical indicators
| | | |
| --- | --- | --- |
| experimental project | Unit | Index requirements |
| Tensile strength | Mpa | ≥14.7 |
| Elongation at break | % | ≥500 |
| Rate of decline in tensile strength after aging | % | ≤10 |
| Hot tensile deformation rate | % | ≤25 |
| joint strength | Mpa | ≥8.3 |
| Adhesion between rubber cushion valve and tire body | Kn/m | ≥3.5 |
| Adhesion between valve with rubber seat and rubber pad | Kn/m | ≥3.5 |
1.2 specifications and dimensions
Kind

Inner tube specification

Width of flat stack section(Not lessmm)

Flat stack outer perimeter(Not lessmm)

Weight (not lessg)

valve model

Engineering tire series

23.50-25

600

4214

19000

Z1-01-8

20.50-25

560

4000

15000

Z1-01-8

17.50-25

420

3580

10035

Z1-01-8

14.00-20

360

3109

8500

Z1-01-8

13.00-20

370

3100

5800

Z1-01-8

Truck tire series

12.00-20

310

2909

4500

Z1-01-8

11.00-20

290

2759

3980

Z1-01-8

10.00-20

270

2668

3500

Z1-01-8

9.00-20

250

2608

3000

Z1-01-6

8.25-20

230

2517

2600

Z1-01-5

Light Truck Series

8.25-16

240

2211

2100

Z1-01-5

7.50-16

220

2120

1800

Z1-01-4

7.00/6.50-16

200

2049

1600

Z1-01-4

7.50-15

200

1970

1620

Z1-01-4

7.00/6.50-15

190

1890

1500

Z1-01-4

Industrial tires and other series

6.00-15

187

1872

1250

Z1-01-1

6.50-10

175

1569

980

Z1-01-2

6.00-16

187

1619

1350

Z1-01-1

6.00-14

170

1700

1100

Z1-02-1

4.00/4.50/5.00-14

120

1590

700

Z1-02-1

6.00-13

150

1600

1100

Z1-02-1

6.00-12

191

1651

1100

Z1-02-2

5.00-12

119

1470

750

Z1-02-1

4.50-12

119

1470

750

Z1-02-1

4.00-12

115

1399

650

Z1-02-2

28*9-15

190

2105

1850

Z1-01-4
2.1 bias tire cushion belt technical indicators
| | | |
| --- | --- | --- |
| experimental project | Unit | Index requirements |
| Tensile strength | Mpa | ≥7.0 |
| Elongation at break | % | ≥350 |
| Tearing permanent deformation | % | ≤40 |
| Hardness | (ShawAType) degree | 60±8 |
2.2 specifications and dimensions
| | | | |
| --- | --- | --- | --- |
| Specifications | Flatten width (≥mm) | Intermediate thickness(≥mm) | Edge thickness (≤mm) |
| 23.50-25 | 498 | 9.0 | 1.5 |
| 20.50-25 | 375 | 8.0 | 1.5 |
| 17.50-25 | 315 | 7.5 | 1.5 |
| 14.00-24 | 225 | 7.0 | 1.5 |
| 14.00-20 | 225 | 7.0 | 1.5 |
| 12.00-20 | 205 | 6.0 | 1.5 |
| 11.00/10.00-20 | 200 | 5.5 | 1.5 |
| 9.00-20 | 178 | 4.5 | 1.5 |
| 8.25-20 | 178 | 4.0 | 1.5 |
| 9.00/8.25-16 | 178 | 4.0 | 1.5 |
| 7.50-16 | 168 | 4.0 | 1.0 |
| 7.50-15 | 168 | 4.0 | 1.0 |
| 7.00/6.50-15 | 157 | 4.0 | 1.0 |
| 7.00/6.50-16 | 157 | 4.0 | 1.0 |
3.1 all-steel tire cushion belt technical indicators
| | | |
| --- | --- | --- |
| experimental project | Unit | Index requirements |
| Tensile strength | Mpa | ≥10 |
| Elongation at break | % | ≥400 |
| Tearing permanent deformation | % | ≤40 |
| Hardness | (ShawAType) degree | 60±8 |
Specifications and Dimensions of 3.2 Steel Tire Belt
| | | | |
| --- | --- | --- | --- |
| Specifications | Flatten width (≥mm) | Intermediate thickness(≥mm) | Edge thickness (≤mm) |
| 12.00R20 | 235 | 8.0 | 1.0 |
| 11.00R20 | 225 | 7.0 | 1.0 |
| 10.00/9.00R20 | 215 | 7.0 | 1.0 |
| 825R20 | 192 | 6.0 | 1.0 |
| 8.25/7.50R16 | 183 | 5.5 | 1.0 |
| 7.00/6.50R16 | 175 | 5.5 | 1.0 |
Specifications and Basic Parameters of 4.1 Flexible Rubber Joint
| | | | |
| --- | --- | --- | --- |
| Nominal diameterDN(mm) | KDTFLength (mm) | Nominal diameterDN(mm) | KDTFLength (mm) |
| 40 | 95 | 100 | 150 |
| 50 | 105 | 125 | 165 |
| 65 | 115 | 150 | 180 |
| 80 | 135 | 200 | 190 |