The city's general mobilization hundred-day battle
---
-Deputy Director Guo YunFang and his party supervised the progress of Kaili Wei's science and technology and worked on site.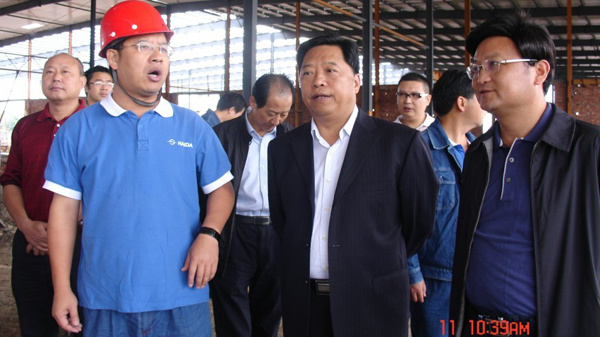 "How is the progress of the Kailiwei project? What problems need to be solved in the city?" Ziyang Municipal People's Congress Standing Committee Party Secretary, Deputy Director Guo Yunfang with such a problem on the morning of October 8, in Ziyang City People's Congress Deputy Director Yang Kunlun, Deputy Mayor Tian Yadong, Economic and Trade Commission Director Zhou Jun, Jianyang Municipal Party Committee Deputy Secretary, Mayor Wang Hongbin and other Ziyang, Jianyang two levels of the relevant departments responsible person, deep Kailiwei technology construction site office. Deputy Director Guo Yunfang requested that all cadres and employees of Haida Group should actively respond to the call of "City General Mobilization, Hundred Days Battle" put forward by Li Jia, Secretary of the Ziyang Municipal Party Committee and Director of the Standing Committee of the Municipal People's Congress, and continue to carry forward the spirit of not being afraid of difficulties and being brave to overcome difficulties. Ensure the completion of various goals and tasks this year, and make contributions to the construction of a strong industrial city.
At the construction site of Kailiwei Science and Technology, Deputy Director Guo Yunfang and his entourage listened to the report of Yang Qi, General Manager and Secretary of the Party Committee of Haiga Group, and learned in detail about the quality, progress and safety of the project construction, and required scientific construction under the premise of ensuring quality., Scientific arrangement, speed up the progress. Secretary Guo and his party were very satisfied to see the neat rows of factories and the tense, busy and orderly construction scene.
Deputy Director Guo YunFang asked all relevant departments to stand at the height of the overall development of Ziyang and Jianyang, take the initiative to serve, fully cooperate, properly solve various difficulties and problems encountered in the construction of Kailiwei Technology, and provide a strong guarantee for the construction of the project. Build Kailiwei Technology into an excellent project, a assured project, and a satisfactory project.
Deputy Director Guo YunFang emphasized that Haida Group must further refine its work responsibilities, strengthen work measures, adopt effective methods, strive to tackle difficulties, face difficulties, reverse the construction period, seize time, and ensure that the project construction is advanced efficiently and quickly. Good, let key projects play their role as soon as possible and give full play to their role, strive for early completion and production, and generate benefits as soon as possible, and make greater contributions to the economic development of Ziyang and Jianyang.