Unifying thinking and actively promoting the early completion and commissioning of Kaili Wei Technology
---
-Secretary Zhao Yongtao and his party inspected the construction site of Kaili Wei Technology and worked on site.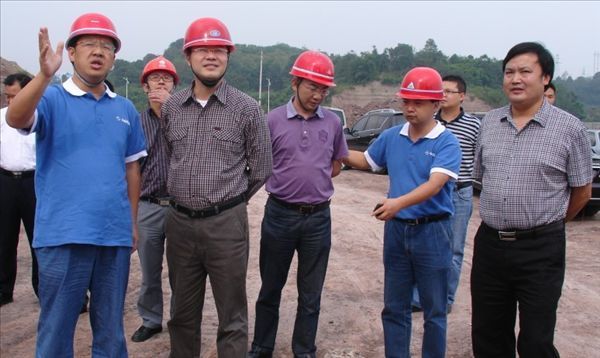 At 3 o'clock in the afternoon on October 8, Zhao Yongtao, Secretary of the Jianyang Municipal Committee of the Communist Party of China and Director of the Standing Committee of the Municipal People's Congress, Xiao Dong, Deputy Mayor, and heads of relevant departments such as the Municipal Economic Bureau, Finance Bureau, Planning Bureau, Land and Resources Bureau, Electric Power Bureau, etc., went to Kailiwei Technology Inspection of the construction site and on-site office work.
Secretary Zhao Yongtao and his party inspected the construction site and had a careful conversation with the person in charge of the project department of the construction party. They listened to Yang Qi, general manager and party secretary of Haida Group, on the progress of Kailiwei's scientific and technological construction, the problems existing in the construction process and the next schedule. Afterwards, Secretary Zhao gave important instructions: Secretary Zhao said: "Jianyang Municipal Party Committee, Municipal Government and Haida Group must further gather strength, further invigorate their spirits, further unify their thinking, cooperate with each other, coordinate in place, actively promote project construction, and complete and put into production as soon as possible."
Secretary Zhao asked to raise awareness and create first-class projects. Under the premise of ensuring quality and safe construction, the construction unit shall reasonably allocate forces according to the established time limit to speed up the construction progress. When Secretary Zhao learned that it was difficult to solve the problem of production water, the difficulty of pipeline laying, and the surrounding roads had not yet been opened, he asked the relevant government departments to do everything possible and try every means to help Kailiwei Technology solve the current construction process as soon as possible. For the problems encountered, he put forward handling opinions to assign responsibilities to relevant departments, and at the same time determined the specific implementation time to ensure that Kailiwei Technology is put into trial production on schedule.