Three products of Haida Group won the honorary certificate of "2020 Sichuan Famous Products Catalog"
---
Recently, the Sichuan Provincial Economic and Information Technology Commission announced the 2020 "Sichuan Province Product Famous and Excellent Catalog". The main subsidiaries of Haida Group: Sichuan Tire Rubber (Group) Co., Ltd. and Sichuan Kailiwei Technology Co., Ltd. "Haida Tire", "Tianfu Tire", and "Collaborator Tire" series products are all included in the "2020 Sichuan Famous and Excellent Product Catalog".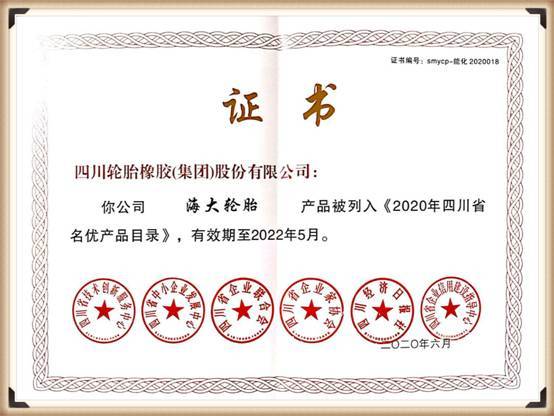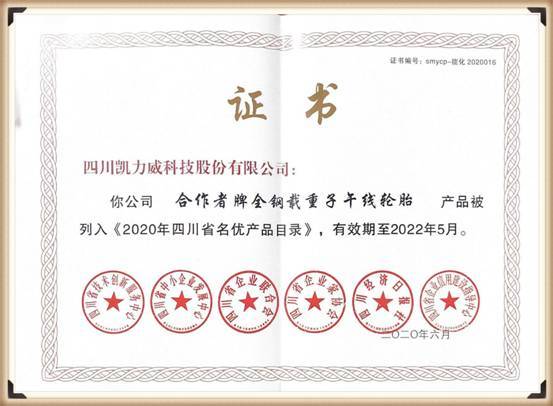 The evaluation of "famous and high-quality products in Sichuan Province" is to promote the transformation and upgrading of enterprises in advantageous industries, promote the market expansion of "made in Sichuan" famous and high-quality products, enhance the popularity of famous and high-quality products, and recommend famous and high-quality enterprise products for consumers. The selected products cover six major directions: electronic information, equipment manufacturing, food and beverage, advanced materials, energy and chemical industry, and light industry and textile; the selection procedures are strict, and the participating companies need to meet the market share and production and sales rate of the products. It is at the advanced level in the same industry and has a large production scale, and finally select products with high brands and industry influence in the province.
This time, the three major brand products of Haida Group were selected into the "2020 Sichuan Famous Products Catalog", highlighting the advantages and influence of the company's products in terms of technology research and development, product quality, and market recognition. Haida Group will use this as a driving force to strengthen research and development, promote independent innovation, continue to promote the overall upgrade of product "quality, scale, and brand", enhance the industry influence of products, and achieve stability and long-term development, and gradually achieve the goal of "100-year Haidas and 10 billion Haidas.